About Align Health and Holistic Medical Center
Helping Patients Holistically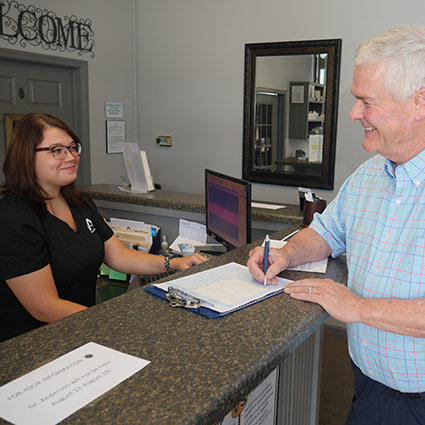 In the late 90s, Dr. Eric Anderson started practicing in West Palm Beach, Florida at his father's clinic. In 2004, he and his family made the move to Tennessee where he opened up his practice to serve the patients of Maryville, Alcoa and Greenback. He originally named it Anderson Chiropractic after his father but then changed the name to Align Health and Holistic Medical Center.
"We felt the name embodies what we're trying to do which is integrate chiropractic with medicine to do things more holistically. It's our desire to help get better outcomes for all of our patients," says Dr. Anderson
Providing Relief and Wellness
At our chiropractic care center, we offer patients a little bit of everything. We provide relief care, family care and wellness care. It's gratifying for us to see patients come in for regular checkups who are feeling good and want to stay that way.
We've also taken care of lots of patients who have had surgeries and have lived with chronic pain. It's rewarding that we've had tremendous success helping people who have had many chronic conditions or pain for an extended period. We also excel at helping those patients with acute injuries, whether from an auto accident or something else.
The variety of therapies that we offer at our clinic can help patients improve their quality of life. It's exciting when patients can resume doing the things they hadn't been able to do in a long time. At Align Health and Holistic Medical Center, we're highly successful at helping patients get well quickly and on the path to optimal health.
The Align Health and Holistic Medical Center Difference
At Align Health and Holistic Medical Center, we care about our patients. If they need an adjustment, we're going to give them chiropractic care. If they are sick, have allergies or need a sports physical, they can check out our Quick Care clinic services. We also offer a lot of different cutting-edge therapies, and if we can't help you, we will find someone who can. We believe in the health of our patients to the point of sending them out to somebody else for a different kind of therapy that we don't offer if we believe it's what they need. It's always our desire to get the best outcome for every patient. After all, we just want them to get better.
If you'd like to get out of pain and on the road to better health, naturally, we invite you to contact the practice today to schedule an appointment!

About Align Health and Holistic Medical Center | (865) 681-5277