Meet Dr. Eric Anderson
Growing Up With Chiropractic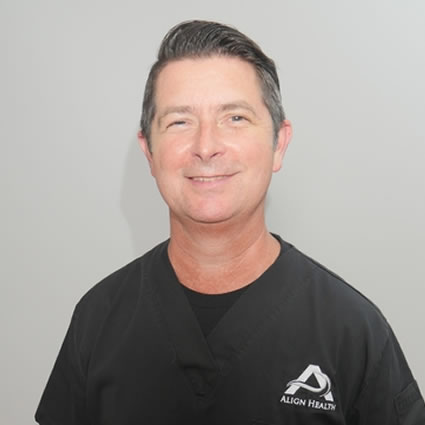 With a father, brother, and uncle who are all chiropractors, it was a natural fit for Dr. Anderson to become one too. "I grew up around it and worked in my dad's office since I was a kid, so it has always been a way of life for me. I enjoy the chiropractic lifestyle."
Obtaining a Chiropractic Education
Dr. Anderson graduated from Life University in Georgia in 1998 as a Doctor of Chiropractic. He also received a Bachelor of Science in Nutrition from the University. Most of the experience he gained was at his father's clinic seeing how his dad and his brother treated people and changed their lives.
"Probably at least half a dozen guys my brother and I grew up with went into chiropractic because of my dad. I think being around that clinic and seeing how successful it was and how he cared for people molded my path."
To further his education, Dr. Anderson is in the process of doing some neurology work as he's focusing more on that in the clinic. He's also accredited in the Thompson Technique and Full Spine Diversified. Dr. Anderson is a member of the Tennessee Chiropractic Association.
Opening the Maryville Clinic
The greatest success for Dr. Anderson as a chiropractor is opening the clinic in Maryville. "We moved from my father and brother's clinic in West Palm Beach, a huge practice, and we started our own clinic here." The practice has grown from being in front of his house with only a few rooms. "We now have 10 rooms and do a whole lot of different therapies and treatments for people."
Outside the Office
Dr. Anderson and his wife have four children. When he's not taking care of patients, he and his athletic family enjoy sports and are often traveling to soccer or basketball games. He and his wife also stay fit by playing tennis.
Get Started Today
If you're ready to get out of pain and experience health and wellness, contact the practice today to schedule an appointment with Dr. Anderson!

Dr. Eric Anderson | (865) 681-5277